Take the pain out of handling mortgages throughout the loan lifecycle. iLienRED® automates the process with a web-based tool that lets lenders complete, record and search documents easier, faster and more accurately. With Wolters Kluwer's Lien Solutions as your trusted partner you'll be more productive, better able to utilize your resources, and be more cost efficient.

Recording
There's a better way to complete, record and manage your mortgage related documents
Increase team efficiency
Reduce turn times; receive recording information quickly
Eliminate unnecessary document printing, signing and shipping and associated costs
Customize templates based on your needs
Utilize an audit log/track orders
Reduce errors and rejections

Search
Quickly and easily conduct real property searches for commercial and residential properties
Increase efficiency and productivity
Quickly perform due diligence for lending decisions like Home Equity loans, refinances, modifications and other transactions
Flexibility to do one-time, recurring, and multi-jurisdictional searches
Work with a single provider with national coverage
Get results via an online, automated or manual method for Public Records searches and document retrieval services
Improve Real Property Search
Click on the image to read the article: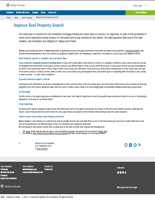 Plus, our reliable, knowledgeable customer support team is there when you need them.
If you're looking for other ways to improve your processes, ask us about services such as Client Signing Authority, Borrower Notification Letter, or Substitution of Trustee Signing Services.